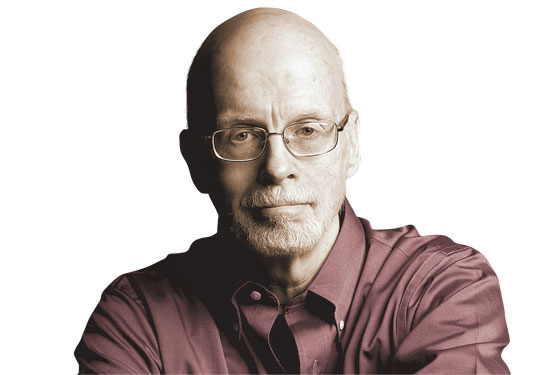 Bill Cain receives $25,000 Steinberg/ATCA New Play Award for 2011; $7,500 citations for Kathryn Grant and David Bar Katz
The American Theatre Critics Association (ATCA) has named Bill Cain's "Nine Circles," a harrowing play about war and redemption, the winner of the $25,000 Harold and Mimi Steinberg/ATCA New Play Award for 2011. The award recognizes playwrights for the best scripts that premiere professionally outside New York City during the previous calendar year, and is the largest annual monetary prize for an American play.
Kathryn Grant's "The Good Counselor" and David Bar Katz's "The History of Invulnerability" received Steinberg/ATCA citations and $7,500 each. Both Grant and Katz are first-time winners, but Cain won the Steinberg/ATCA Award last year for "Equivocation" – the first consecutive wins ever, although other playwrights (Jane Martin, August Wilson, Lee Blessing) have won it (or its predecessor award) more than once.
Checks and commemorative plaques were presented to Cain, Katz and Grant on April 2 at Actors Theatre of Louisville during the Humana Festival of New American Plays.
The award was created by ATCA in 1977 to honor new plays premiered at theaters outside New York City; no play is eligible if it has gone on to a New York production within the award year. Since 2000, it has been generously funded by The Harold and Mimi Steinberg Charitable Trust, making the $40,000 Steinberg/ATCA the largest national new play award of its kind.
"The long-standing partnership between the Harold and Mimi Steinberg Charitable Trust and the American Theatre Critics Association has recognized some of today's greatest writers, and helped identify the great playwrights of tomorrow," said trustee Jim Steinberg. "We're delighted to help support the unique telling of tales on the American stage."
Cain's drama follows the descent into a very recognizable hell by a young American soldier accused of an atrocity in Iraq. His journey through the bureaucratic and social maze mirrors Dante's vision of an arduous odyssey to find redemptive self-knowledge. The play premiered Oct. 14, 2010, at the Marin Theatre Company. Cain is also an award-winning television writer and producer. He was founder and artistic director of the Boston Shakespeare Company where he directed most of the works in the Shakespeare canon.
Kathryn Grant's "The Good Counselor" questions the definition of a good mother. It centers on an African-American lawyer defending a young white racist charged with murdering her three-week-old baby. His investigation forces him to re-examine his own mother's choice to favor him and abandon his younger brother. The work premiered July 15 at the professional Premiere Stages based at Kean University in Union, New Jersey.
David Bar Katz' "The History Of Invulnerability" uses the life of Jerry Siegel, the co-creator of Superman, to explore the roots of art and how it relates to the real world. It contends that the nebbishy Siegel evolved Superman as a fantasy to counteract his guilt and impotence over the horror of the Holocaust half a world away. It premiered April 3 at Cincinnati Playhouse in the Park.
Twenty-seven scripts were nominated by ATCA members, and the winners were chosen by a committee led by Wm. F. Hirschman of the South Florida Theater Review. "Despite vanishing government support and faltering donations, America's regional theaters have persevered and prevailed as this country's preeminent crucible for vibrant and important new works," said Hirschman. "The recommended plays encompass a dizzyingly wide range of styles and themes, produced by a cadre of experienced and novice playwrights who are inarguable proof that theater remains a vital and relevant art form in the 21st century."
Other committee members were Misha Berson, Seattle Times; Bruce Burgun, Bloomington Herald-Times and Back Stage; Michael Elkin, Jewish Exponent (Pa.); Jay Handelman, Sarasota Herald-Tribune; Pam Harbaugh, Florida Today (Melbourne, Fla.); Leonard Jacobs, The Clyde Fitch Report; Elizabeth Keill, Independent Press (Morristown, N.J.); Elizabeth Maupin, Elizabeth Maupin on Theater (Orlando, Fla.); Wendy Parker, The Village Mill (Midlothian, Va.); David Sheward, Back Stage (New York); Herb Simpson, City Newspaper (Rochester, N.Y.) and Tim Treanor, DC Theater Scene (Washington, D.C.).
Playwrights honored since 1977 have included Lanford Wilson, Marsha Norman, August Wilson, Jane Martin, Arthur Miller, Mac Wellman, Adrienne Kennedy, Donald Margulies, Lynn Nottage, Horton Foote, and Craig Lucas. Each year's honored plays are chronicled in The Best Plays Theater Yearbook, edited by Jeffrey Eric Jenkins, alongside the 10 best plays produced that year in New York City. For a complete list of the 86 plays to win awards or citations, go to www.americantheatrecritics.org, under Awards.
The Harold and Mimi Steinberg Charitable Trust was created in 1986 by Harold Steinberg on behalf of himself and his late wife. Pursuing its primary mission to support the American theater, it has provided millions of dollars to support new productions of American plays and educational programs for those who may not ordinarily experience live theater.
ATCA was founded in 1974 and works to raise critical standards and public awareness of critics' functions and responsibilities and to recognize excellence in the American theater. The only national association of professional theater critics, with several hundred members working for newspapers, magazines, radio and television stations and websites, ATCA is the U.S. national section of the International Association of Theatre Critics, a UNESCO-affiliated organization that sponsors seminars and congresses worldwide.
ATCA also presents the M. Elizabeth Osborn Award, honoring emerging playwrights. The honor was given this year at the Humana Festival to Cori Thomas and her play "When January Feels Like Summer"  (see separate press release previously posted).
In addition, ATCA administers the $10,000 Francesca Primus Prize, funded by the Francesca Ronnie Primus Foundation, honoring outstanding contributions to the American theater by a female artist who has not yet achieved national prominence. Annually ATCA makes a recommendation for the Regional Theater Tony Award, presented by the American Theatre Wing/Broadway League, and its members vote on inductions into the Theater Hall of Fame. For more information on ATCA, visit www.americantheatrecritics.org.