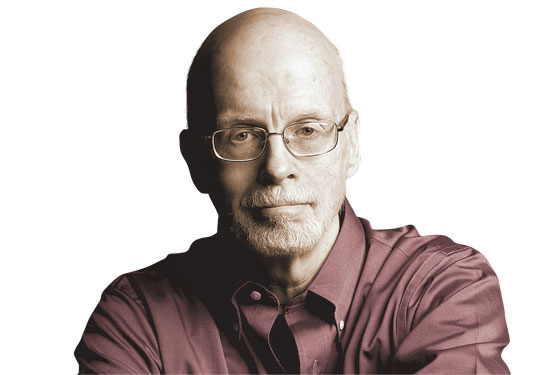 Cain Wins 2010 Steinberg/atca Award — Margulies And Zacarías Also Cited
March 27, Louisville, KY — Bill Cain's "Equivocation" is the winner the $25,000 2010 Harold and Mimi Steinberg/ATCA New Play Award. The largest such prize in the country, the Steinberg/ATCA recognizes the best American scripts which premiered professionally in the award year (2009) outside New York City.
The Steinberg/ATCA and two additional citations were presented March 27 at Actors Theatre of Louisville during the Humana Festival of New American Plays. Cain received a commemorative plaque and a cash prize of $25,000. The two citations, including plaques and $7,500 each, went to "Time Stands Still," by Donald Margulies, and "Legacy of Light," by Karen Zacarías.
"The long-standing partnership between the Harold and Mimi Steinberg Charitable Trust and the American Theatre Critics Association has recognized some of today's greatest writers, and helped identify the great playwrights of tomorrow," said trustee Jim Steinberg. "We're delighted to help support the unique telling of tales on the American stage."
Steinberg and ATCA chair Chris Rawson together presented the plaques and checks. But first, Rawson presented ATCA's M. Elizabeth Osborn Award (which had been announced several days earlier) to Jason Wells. In accepting, Wells preemptively apologized that his next play may have a theater critic as the antagonist. Then came the Steinberg/ATCA Award and Citations. Actors Theatre's Marc Masterson accepted for Margulies and Arena Stage's Molly Smith for Zacarías. Cain had flown in from San Francisco to accept in person.
His "Equivocation" is a highly-theatrical fantasy that mixes wry comedy and shattering drama. King James' ruthless prime minister commissions Shakespeare's company to write and perform the official (and highly suspect) government account of Guy Fawkes' Gunpowder Plot. Shakespeare becomes increasingly skeptical, forced to weigh the relationship of art to government and artists' personal responsibility to truth. It premiered April 18, 2009, at the Oregon Shakespeare Festival, later played at Seattle Repertory Theatre and is just completing a 2010 New York run at the Manhattan Theater Club.
Critic Misha Berson of The Seattle Times called it, "compelling fiction in its rich marbling of literary lore and a timely, astute portrayal of religious bigotry, political exploitation of terrorism and other burning matters. An erudite historical drama demanding three hours of your time, and many of your brain cells, is a rare property in the American theater. And in this case, a welcome one."
Zacarías' "Legacy of Light" was described by one critic as "an intellectual joyride" examining two women, an 18th century scientist and a 21st century astrophysicist, balancing their yearning for professional fulfillment and the complications of impending motherhood. The work premiered May 8, 2009, at Arena Stage in Washington, D.C.
Margulies' "Time Stands Still" portrays married journalists trying to recover from the emotionally and physical damage wreaked during their coverage of the war-torn Middle East. They must weigh their socially important role against the seemingly irreconcilable quest for a normal life back home. It premiered at the Geffen Playhouse in Los Angeles on Feb. 11, 2009, and is also just completing a 2010 N.Y. run.
No play is eligible for the Steinberg/ATCA if it goes on in the same award year to a production in New York.
The winners were selected from plays nominated by ATCA members and evaluated by a committee of 13 theater critics. For the six finalists, click here. The jury was chaired by Wm. F. Hirschman of the South Florida Sun-Sentinel. Other committee members were Misha Berson, Seattle Times; Bruce Burgun, Bloomington Herald-Times and Back Stage; Michael Elkin, Jewish Exponent (Pa.); Jay Handelman, Sarasota Herald-Tribune; Pam Harbaugh, Florida Today (Melbourne, FL); Leonard Jacobs, Editor, The Clyde Fitch Report; Elizabeth Keill, Independent Press (Morristown, N.J.); Elizabeth Maupin, Orlando Sentinel; Wendy Parker, The Village Mill (Midlothian, Va.); Michael Sander, Back Stage (Minn.); Herb Simpson, www.totaltheater.com (Rochester, N.Y.) and Tim Treanor, DC Theater Scene (Washington, D.C.)
"Once again, America's regional theaters from Sarasota to Seattle proved themselves as important a source for vibrant and important new work as the five boroughs of New York City," said Hirschman. "The nominated plays reflected an encouraging range of well-known names and newcomers, young voices and mature talents, the mainstream drama and the surreal. Themes of integrity and responsibility suggest that issues facing humanity one, two, even three centuries ago, still echo for the 21st Century with a deafening resonance."
The New Play Awards began in 1977, when ATCA started to cite each year one new play produced outside New York City. In 2000, the award was renamed to recognize the Steinberg Foundation's generous annual gift, which was raised to $40,000 in 2006. Honorees have included Lanford Wilson, Marsha Norman, August Wilson, Jane Martin, Arthur Miller, Mac Wellman, Adrienne Kennedy, Lynn Nottage, Horton Foote, Moises Kaufman and Craig Lucas. Last year's honoree was E. M. Lewis for "Song of Extinction." Each year's winning plays are chronicled in The Best Plays Theater Yearbook, edited by Jeffrey Eric Jenkins, alongside the 10 best plays produced that year in New York City. Click here for a complete list of the 83 plays cited from 1977 through 2009.
The Harold and Mimi Steinberg Charitable Trust was created in 1986 by Harold Steinberg on behalf of himself and his late wife. Pursuing its primary mission to support the American theater, it has provided grants totaling many millions of dollars to support new productions of American plays and educational programs for those who may not ordinarily experience live theater.
ATCA was founded in 1974 and works to raise critical standards and public awareness of critics' functions and responsibilities. The only national association of professional theater critics who work for print, broadcast and online media, ATCA is a national section of the International Association of Theatre Critics, a UNESCO-affiliated organization. For more information on ATCA, use the menu in the upper left of this page.
ATCA also presents the M. Elizabeth Osborn Award, honoring emerging playwrights, and the Francesca Primus Prize, funded by the Francesca Ronnie Primus Foundation and honoring female artists who have not yet achieved national prominence. Annually it makes a recommendation for the Regional Theater Tony Award presented by the American Theatre Wing/Broadway League and votes on inductions into the Theater Hall of Fame.
CONTACTS: Christopher Rawson, ATCA Chair, Pittsburgh Post-Gazette, 412-216-1944, [email protected]; Wm. F. Hirschman, ATCA New Plays Chairman, South Florida Sun-Sentinel, 954-478-1123, [email protected].