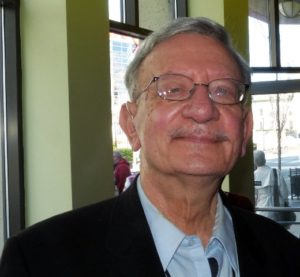 Herbert Simpson, 1934-2019
December 14 — On this day, family members scattered the ashes of critic Herb Simpson and his sister, Marian, in the waters of San Francisco Bay. The long-time ATCA member, longer-time critic and even longer-time theater and dance lover passed away on Nov. 24.
In response to a query last spring about longest-serving theater critics, Herb wrote, "Counting Dance Magazine and various newspapers and magazines, I've been steadily publishing reviews since 1970." That made him at least the third longest serving critic among ATCA members.
But that's just analytics. More memorable was Herb's vivid personality and voluminous fund of information and opinion which he shared with readers and with many of us at many conferences for many years. He was one of the features of ATCA, as is evident in the two commemorative essays linked below.
Bill Hirschman, "The talented, talkative critic: Herbert Simpson (1934-2019)," in Nov. 26 ATCA UPDATE, in Nov. 26 Theatre Criticism, and also here.
Charles Giuliano, "Critic Herbert Simpson: Covered Theatre Insight Out," in Nov. 26 Berkshire Fine Arts.